TO KEEP YOUR HEAD IN THE STARS
Witness in person the full moon, gaze up at the shooting stars, enter into communion with spirits, or reconstruct the world well into the night… For you, we created the øbernight campervan
Designed to carry 2 passengers, this van is fitted with a bedroom on the ground level.
This humble abode on wheels features a panoramic sunroof providing a clear view of the sky. The øbernight campervan was designed for 2 people to experience adventures together. Just you and your companion.
Anything is possible. Open your eyes and dream!
Interior: grey-blue trim in line with the øbernight 's panoramic sunroof. A cosy interior designed for two to travel in comfort and tranquility. The natural bamboo furnishings are modular, and every element has been designed and crafted by Isère craftspeople, experts in tour buses and furnished vans.
Exterior: mat metallic blue covering and compact design to become one with nature.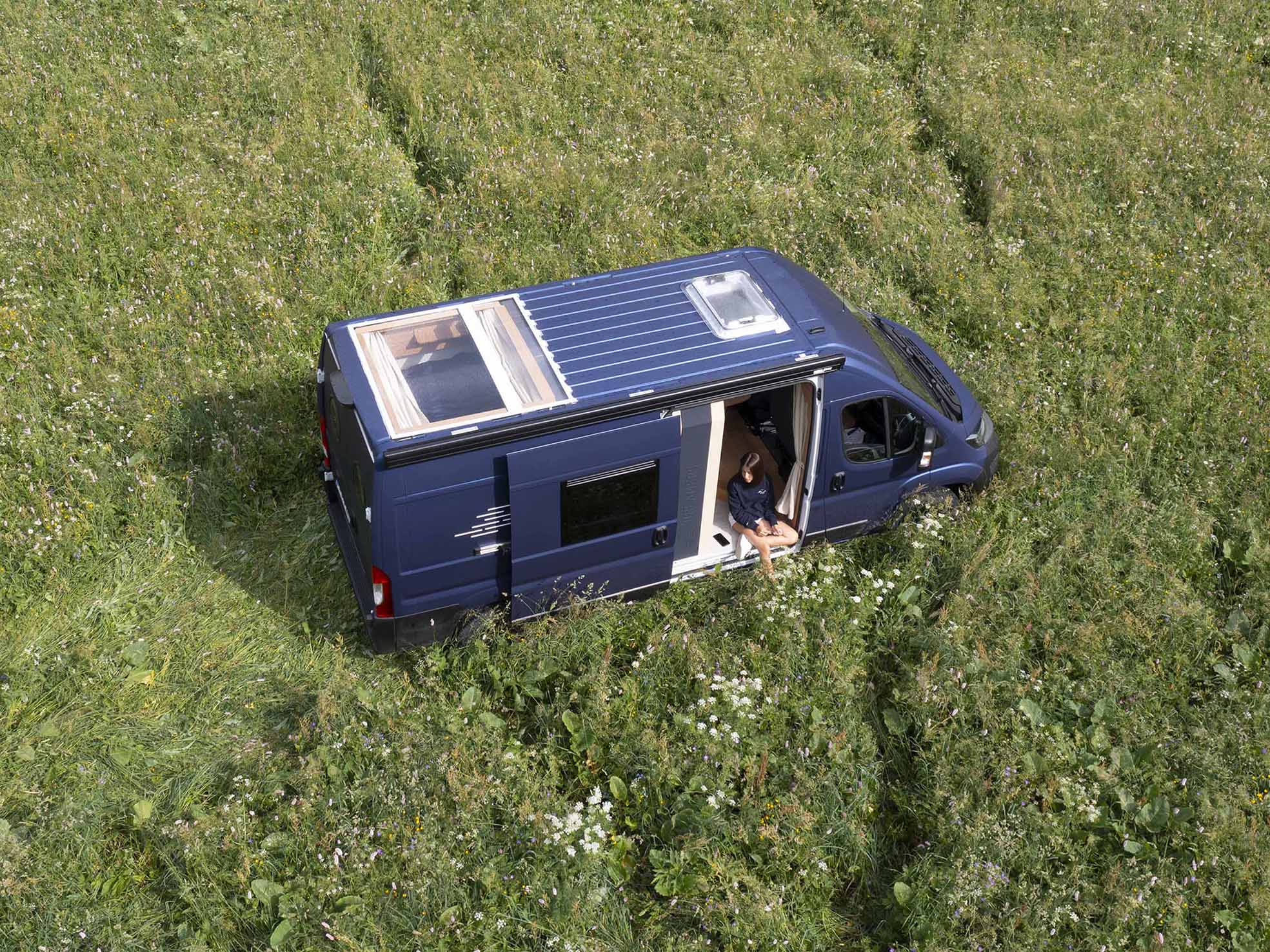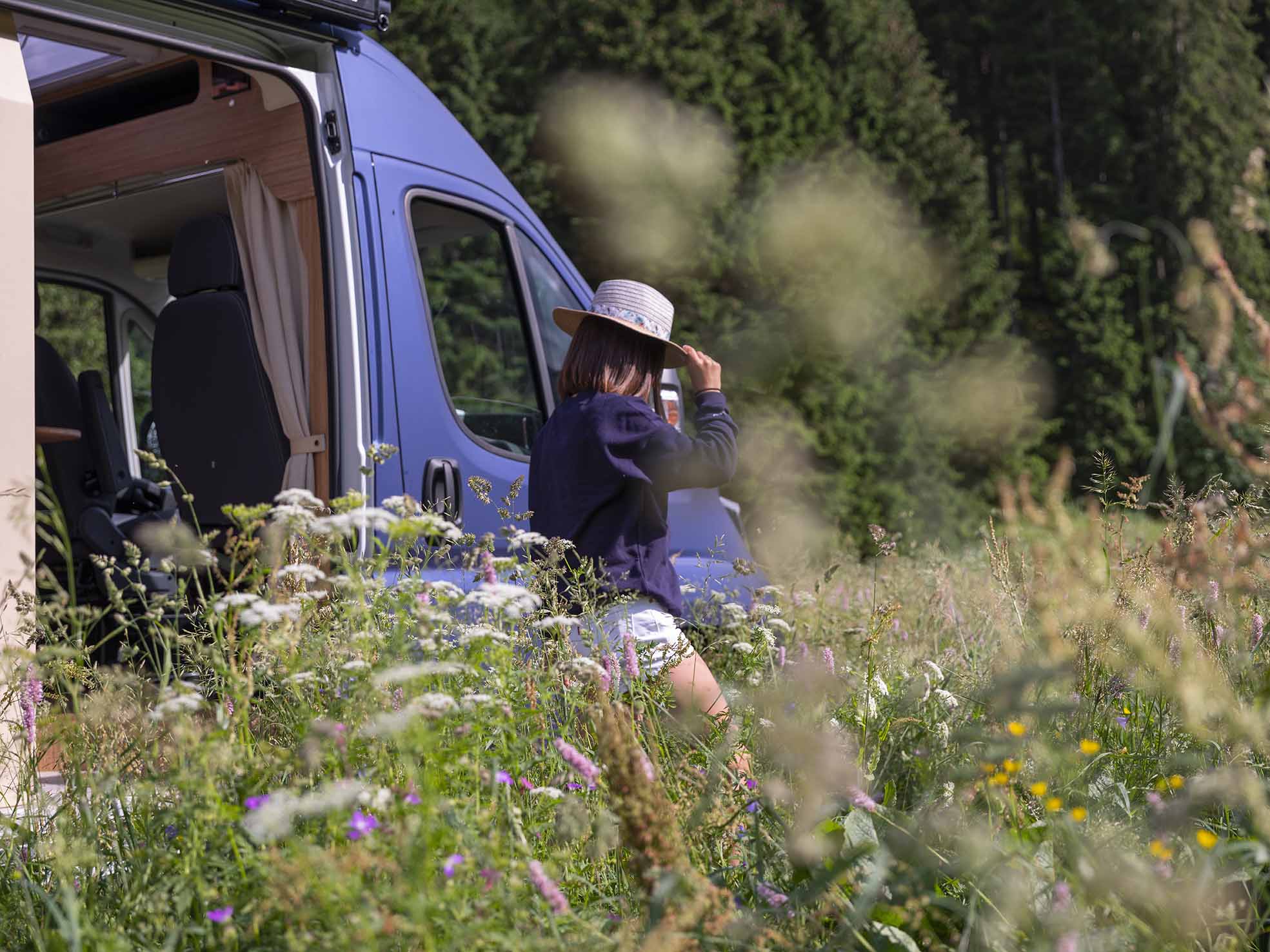 THE øbernight, our campervan for 2 people.
Discover below the presentation of our øbernight campervan. It will allow you to go on an adventure
and live a real "van life" in great comfort!
With its glass rooftop, spend your nights among the stars

2 Passengers
The øbernight is perfectly equipped to accommodate 2 adventurers.

HEATING AND ELECTRICITY
Fitted with a Diesel heater with a 200Ah lithium battery,
the øbernight keeps the living space at a comfortable temperature, even under extreme conditions. Two heating units, located under the seat and in the cargo area, disperse heat throughout all the interior spaces. Use the touchpad thermostat to set the temperature and fan speed just
the way you like.  

ANIMALS WELCOME
Dogs of all origins, breeds, shapes and sizes are welcome aboard. So are all your other four-legged friends accustomed to travelling.

BEDROOM UNDER THE STARS
With a panoramic sunroof over the bedroom, the øbernight offers authenticity, beauty and luxury: sleep under the sky and the stars. Settle into the bed, with its 140×190 cm mattress, and contemplate the cosmos to your heart's content. Return to your roots and immerse yourselves in the elements, and embark on a truly romantic adventure.
Like a hotel, each room features high-end bedding including cotton satin sheets, soft duvets, pillows, fitted sheets and pillow cases, for a heavenly slumber.

ALL-TERRAIN
At less than 3 metres high, the compact øbernight campervan  can be parked just about anywhere, so you can easily scope out the most stunning sites to set up camp for the night. To ensure your driving pleasure, the van features a raised suspension, all-terrain tyres, high-end snow chains, an air conditioning system, and more. You're prepared to face the elements, day or night.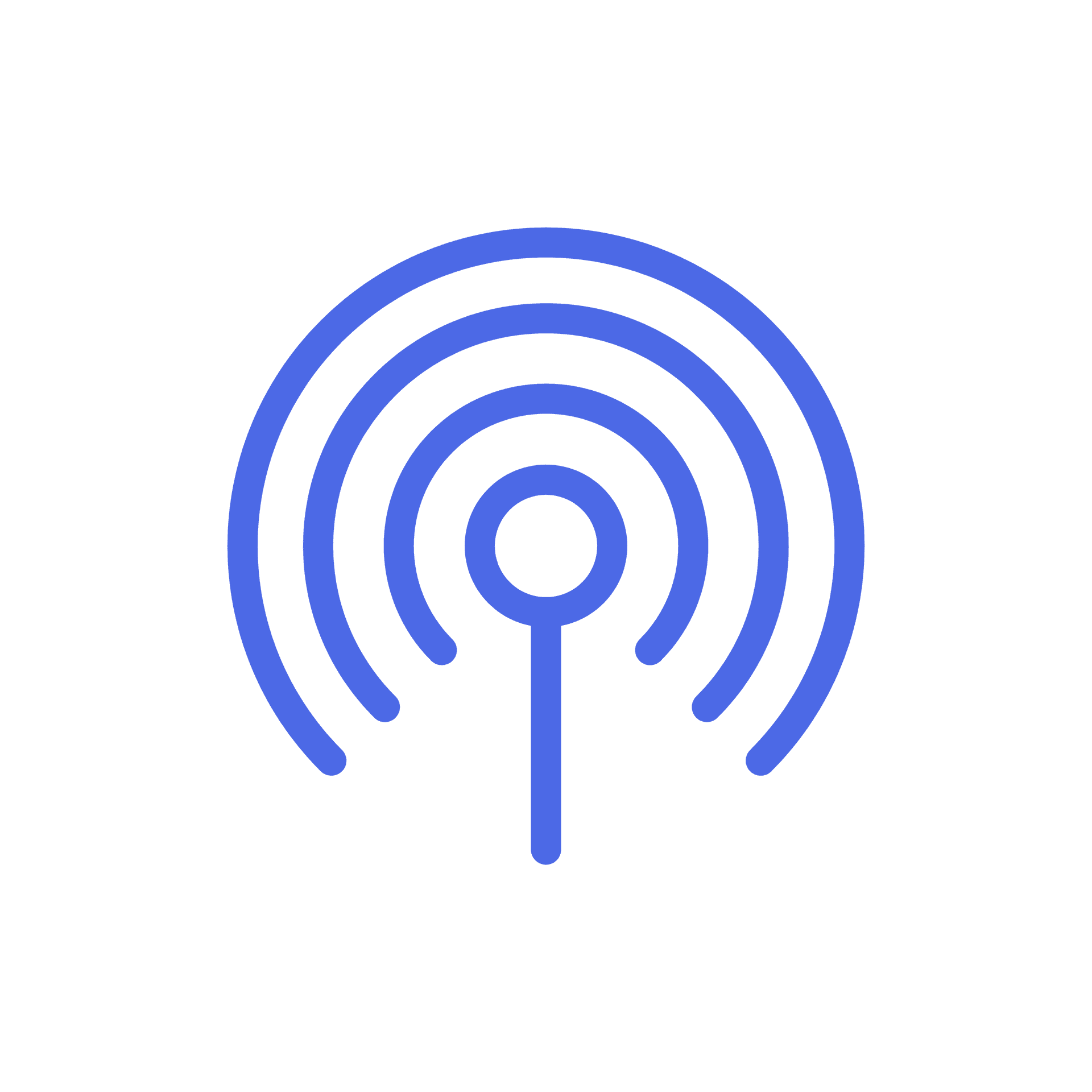 CONNECTED LIVING ROOM 
With its rotating front passenger seats, the øbernight transforms into a living room. In addition to the free onboard WiFi, each van includes a digital tablet loaded with films and series on demand through apps like Universciné and Netflix, starry sessions via Sky View, nature lessons with Peak Finder, daily weather updates with Weather Pro, and more. 

ONBOARD MINDFULNESS
Equipped with yoga mats, each van invites its passengers to relax or meditate immersed in the most beautiful landscapes. Whether at the top of a peak, on the bank of a river or lakeside, the choice is yours! Enjoy the beauty and let go: try the online Yoga Class app.

THE ADVENTURER'S CLOSET
To help keep your bohemian life tidy, the øbernight provides optimised storage spaces. Adapted to each adventure (hiking, skiing, luge, etc.), a heated, watertight boot hidden under the main bed includes an integrated ski rack and is the perfect place to slide in your skis or snowboard.
In the living room and bedroom, drawers, cupboards, closets and shelves are provided to store your personal items.
A digicode safe is also available to keep your valuables secure.

FULLY EQUIPPED KITCHEN
Make a homemade meal, try a spontaneous midnight recipe, split a raclette with your friends: the øbernight offers a fully equipped kitchen including a sink, gas cooktop, coffee maker, kettle, fridge and dishware. For sunny days, enjoy the gas barbecue (optional, delivered with its canisters) and grill up the perfect steak or fish filet in the great outdoors. A foldable table and awning adds another adjacent room.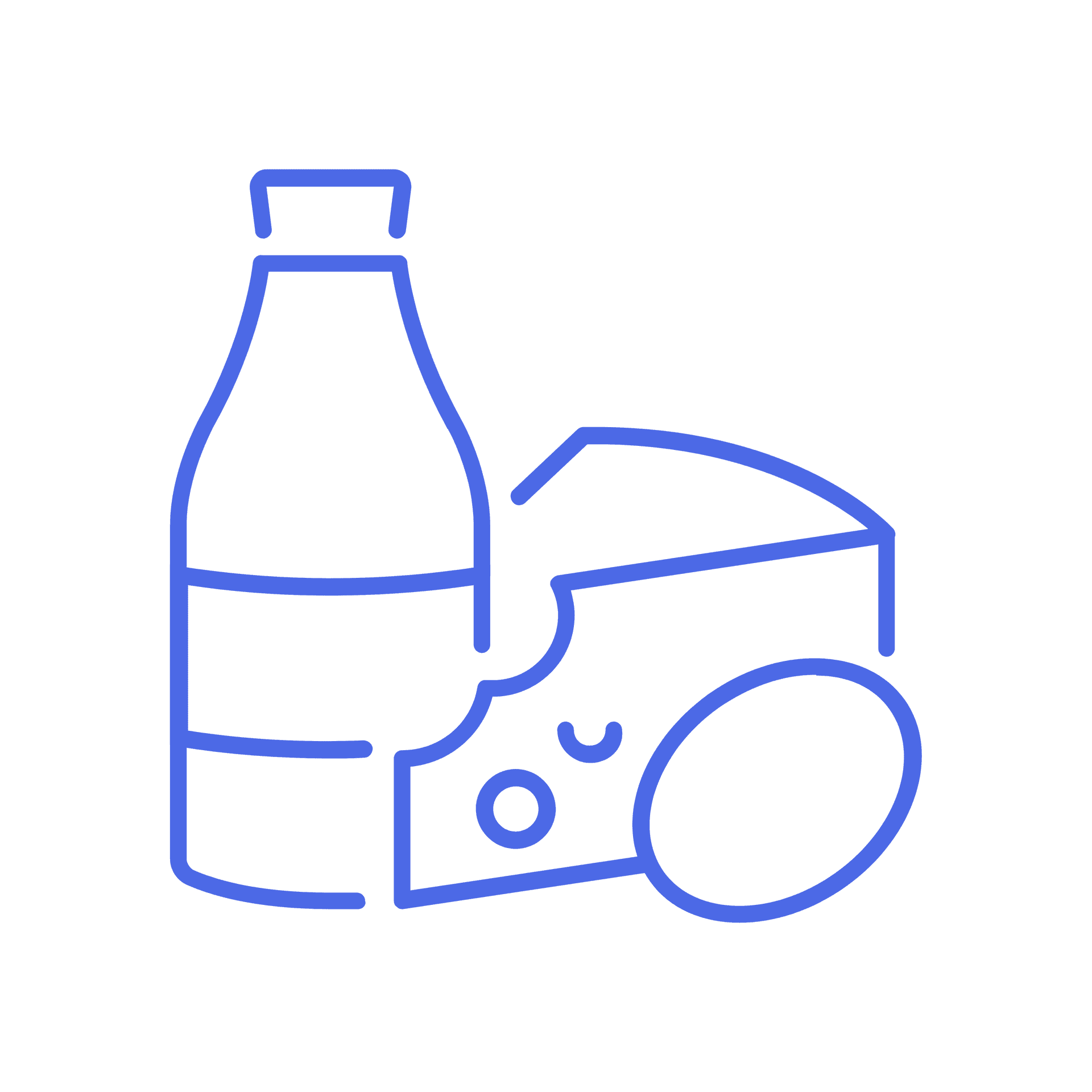 PRODUCTS FOR MOUNTAIN DWELLERS
Before each departure, the øberdream team recommends stocking the fridge with the best mountain products. On the menu: farm products, pure blend coffee grains, and a selection of premium teas.

CHIC BATHROOM
Our philosophy: you don't have to sacrifice self-care to live in the wild. Designed with natural stone leaf, the øbernight shower offers the ideal setting to freshen up, and the onboard plate heat exchanger guarantees hot water uninterrupted. For a touch of luxury, the bath linens and Snöeternelle bio beauty products are provided. We care about the environment. So, to avoid wasting water, we installed a dry toilet on a sliding drawer in the shower.
TECHNICAL SPECIFICATIONS
OF THE ØBERNIGHT CAMPERVAN
Model: Fiat Ducato (year 2020)
Number of seats: 2
Dimensions: H 2.52 m X L 5.99m X W 2.05 m
Maximum loaded weight: 3,500 kg
Sleeping places: 2: 1 double bed (140 cm X 190 cm)
Boot: H 91.5 cm x L 137 cm x D 123.5 cm
Engine: 180 cv (Diesel)
Fuel tank: 90 L
Average fuel consumption: 6.70 L / 100 km
CO2: 178 g/km
Water tank: 90 L fresh water – 90 L waste water
with dashboard alert system to advise when to empty
Gearbox: Manual – 9 speeds
Battery: 200 Ah
Safety: Airbag XXX
Driving: Cruise control / Integrated GPS / Reversing camera / Hands‑free phone system / Power steering / CarPlay stereo compatible with iPhone and Android
Heat: central diesel equipped with ventilated heating units
for optimal distribution
Air conditioning: manual with domotic panel