« The mountain offers everything modern society forgets to give »
Boris Vian
To us, nature is the one true luxury.
A sacred space. Celebrated by those who live without restrictions. Defenders of freedom. Enthusiasts of the world. Passionate souls who seek adventure.
At the heart of nature is the mountain, our paradise.
øberdream has mapped out journeys between the most beautiful valleys in the Swiss, French and Italian Alps. Memorable trips. Authentic routes. Four-season designs to set out any time of year and explore the fauna, flora, hidden lakes, the biggest passes, stunning villages and pastures, and more.
On board our made-to-mesure campervans, pack your camera and Kerouac books, take a deep breath, in then out. Take off on a unique adventure, escape to the wild, sleep under the stars…
An experience reserved for those who know how to dream.
Reveal your #Mobilemind
THE øbernight suite
ON ROAD #7 to switzerland.
Reveal your #mobilemind
ØBERDREAM:
"THE journey to YOUR DREAMS"
luxury campervan road-trips from 2 to 4 people
minimum

 2 nights booking

 from

:


Chamonix, Geneva

🇨🇭

,

Annecy,

 

Courmayeur

🇮🇹

and

Lyon*.
( *minimum 7 night booking from lyon )

For any specific delivery request or discussing your road-trip,
contact our travel angel:
travel aboard ØBERDREAM CAMPERVANs,  embrace wild LIFE.
Designed as real nomadic hotel rooms, our campervans offer mountain adventure. A mobile journey to discover the most beautiful routes in the world, to live free and be inspired.
Fitted to accommodate 2 to 4 people, our campervans are custom-designed to travel in comfort and safety, no matter the conditions or the season. From the zen, modular interior to the exclusive onboard features: iPad, WiFi, online yoga classes, etc… the øberdream experience promises to replenish your soul.
Minimum 2 nights booking from Chamonix, Geneva, Annecy and Courmayeur.
Minimum 1 week booking from Lyon.
All-risk and 24-hour breakdown insurance are included.
WEEKEND OFFER: short-TRIP
IN FULL SERVICE.
 A 2/3 days Road-trip in full service: includes your breakfasts and transfers within a distance of 150 km from Chamonix.

From 270 €* per night.
Booking for 2 or 3 nights
*Low season prices. Service fees non included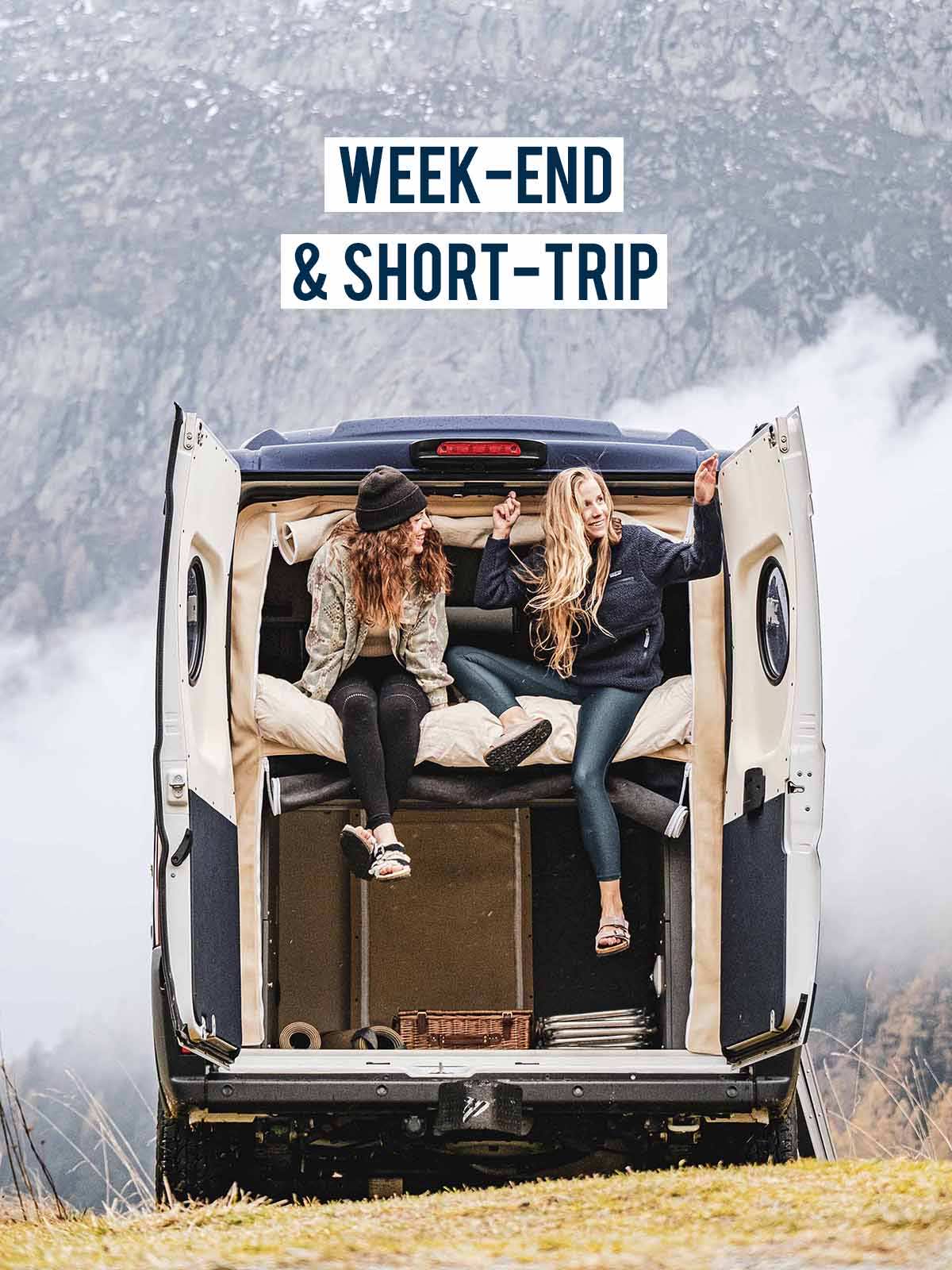 "I understood that the future means moving towards something"
Ryuko Murakami
Øberdream invites you
to discover the hidden side of the mountains all year round : spring, summer, autumn and winter.
Along the itineraries drawn up and approved by our Personalities, set off on adventures like no other
and discover mythical regions and the most beautiful lost paradises.
From 15 of June to October 31 st
The magic of the mountains abounds all summer long, on the most beautiful itineraries of the Alps.
Take hikes along trails and stunning pastures, plunge into rivers, take a nap beside the lake, and more.
The joy carries over into the off season, against a backdrop of fiery colours during the early warm autumn months.
Week offer from 1217 €* for 7 nights
* Low season prices. Service fees non included
To feel as free as the wind, øberdream gives you tips to create
your own made-to-mesure itinerary.
Transfers, meals, courses, activities and skipass:
share your needs and wishes, and we will take care of the rest.
VAN Delivery

2€/km.
Up to 300km
MOUNTAIN ACCESS🇫🇷🇨🇭🇮🇹

online
ØBERDREAM
/GALERIES LAFAYETTE LA CAGNOTTE
Give your loved ones a unique experience and an incredible memory with Øberdream. For a birthday, a EVG/EVJF or any other festive event, create a Galeries Lafayette jackpot to bring your loved ones together and make everyone happy!
ØBERDREAM
/MILLE ET UNE LISTES
Are you getting married? Congratulations! Create your wedding list on Mille et une listes, the wedding list of the Galeries Lafayette and the BHV Marais, like a pot but better! Among the gifts… a romantic getaway in nature with Øberdream.
FRANCE, ITALY, SWITZERLAND
The Øberdream adventure is in the heart of the Mountains, at the crossroads of France, Italy and Switzerland.
The beauty of its landscapes and the many activities of each season
make the Alps a unique place for adventures and meetings.
Øberdream listed the best adresses of the Valleys, the best hidden places to perfect your road-trip.